Playa de Famara, Canary Islands 

BREAK TYPE:

beach

WAVE DIRECTION:

various

IDEAL WIND:

southerly

IDEAL SWELL:

north westerly

IDEAL TIDE:

all

HAZARDS:

rips / crowds

AVERAGE WATER TEMPS:

19° - 22°

DIFFICULTY:

beginner

RATING:

4/5


What a lovely beach perfect for beginers and experts. I second the shout about the strong currents you don't even notice getting pulled out but on low tide there is no problem, good consistent 4-5 foot waves + friendly locals + warm sun = a wicked week away!! Even good for body boarders. The crowds are not bad as the beach does stretch on for ever! Famara rocks and even has an awesome sandwich shop in the village!
 Fergie, Bristol/Cleethorpes
Famara is in a spectacular location on the sparsely populated north shore of Lanzarote, with magnificent volcanic cliffs rising up steeply from the eastern end of the beach. These run north for a couple of miles and effectively scoop all the Atlantic swell towards the beach. This creates a vigorous right to left current along the beach, with a number of rips that shift with the sand bars. In anything but a calm sea this can be a problem for the unwary (i.e. me!). Very mellow local surf school in the village (Hi Dave the instructor from Harlyn!). Surf lessons from the south coast can create a few crowds, but generally there is enough to go around. Beware of the rocks at the west end of the beach. There is a beautiful hollow wedge immediately in front of the village onto sharp volcanic rocks for the experienced only. A shipwreck in the middle of the bay is from a tanker that went down some time ago but still has some residual oil droplets on the beach which stick tar to your feet especially in the summer. All in all a good spot, but you are in the middle of nowhere with no lifeguards and a strong current. 4 hours from the UK with good sun and no time difference - what are you waiting for!
 Adonis, Cornwall/London
Famara Beach (Playa De Famara) is situated in the North West of the Lanzarote. With stunning scenery and a small well preserved Canarian fishing village. Playa Famara picks up all available Atlantic swell and often when no low pressure systems are producing waves in the mid or north Atlantic, during summer months, then a north east trade wind still produces ridable waves very often of good quality. Famara Beach should be thought of in beach topography as very similar to south westerly facing beaches in Great Britain with the normal side shore currents and rips. For more detailed information on the beach you can always have a quick chat with the Surf School Instructors who operate seven days a week on the beach, and will be glad to help you. The beach is seven kilometres long so crowding is never a problem, and often you will surf alongside a vast range of nationalities. On this beach if you give a smile you're sure to get a smile. So, with only a four hour flight away from the UK, warm water and no hassles, Famara Beach offers a great year round surfing venue.
 Tim and Mary, Surf School Lanzarote
This is an excellent beach for both Beginner to learn on and expert to surf as well. The scenery is surperb and the surf clean and powerful. The best surf is found between a height of 3 to 6 ft although it can still be effectively ridden in low double figures. The spot also attract many Kite Surfers and Windsurfers as well but the beach is long and crowds are not an issue.
 Pure Vacations, UK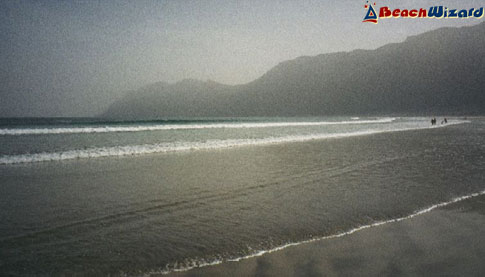 Chris Owen, London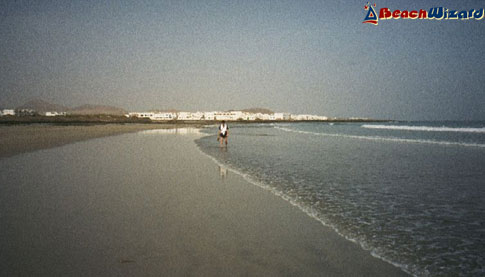 Chris Owen, London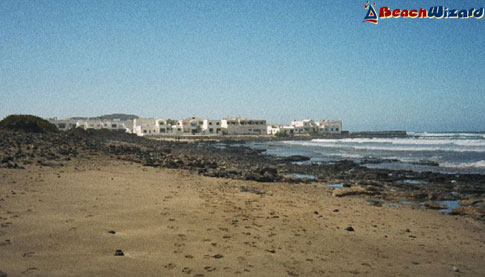 Chris Owen, London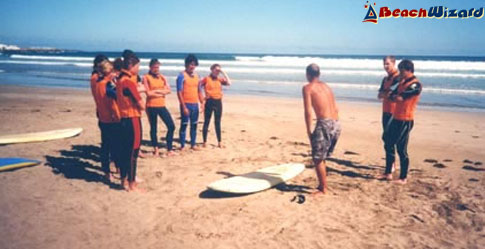 Wes Baker, purevacations.com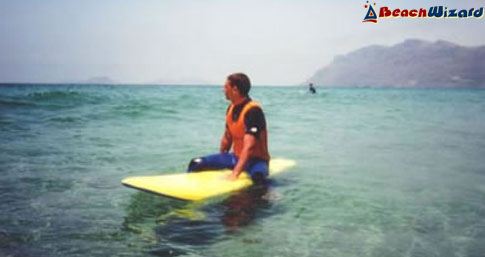 Wes Baker, purevacations.com
Calima Surf, Lanzarote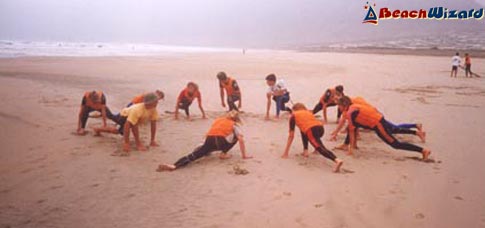 Calima Surf, Lanzarote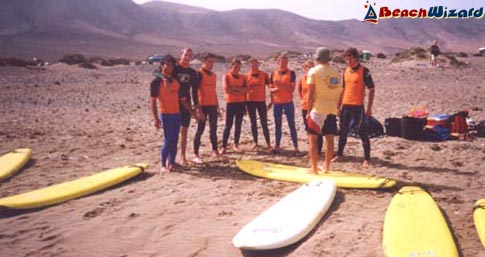 Calima Surf, Lanzarote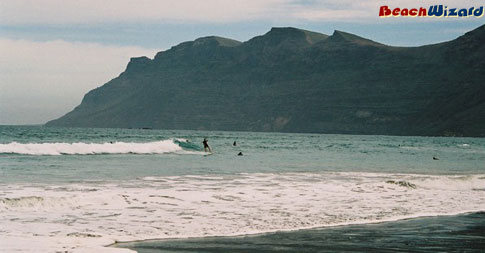 Huw Williams, Aberystwyth