West Wittering, East Wittering, England 

BREAK TYPE:

beach

WAVE DIRECTION:

various

IDEAL WIND:

northerly

IDEAL SWELL:

southerly

IDEAL TIDE:

mid

HAZARDS:

Divides and shore dump

AVERAGE WATER TEMPS:

7° - 15°

DIFFICULTY:

beginner

RATING:

4/5


As a local, I can say there are some fair comments here. It is a great place to surf if you are a longboarder. Uncrowded waves, good left-handers, and 1-200m rides, all with easy access, few dangers, friendly locals and beautiful surroundings. But you do need vast amounts of local knowledge and outstanding wave-prediction abilities. You can't just turn up randomly and expect surf, and forget it altogether during the summer. Basically, unless you're an experienced and dedicated local, Devon will always be a better bet. Local surf reports are often unreliable. Before I moved here, I spent 3 years building my own statistical wave prediction model. But that is the kind of dedication you will need if you are not a local and want to surf here regularly. You will otherwise find this a frustrating place, as some of the posts remark.
 Paul, West Wittering
East Wittering is the absolute mutts nuts for surfing. If anything, it's underrated. I challange anyone to surf there and not agree. Anyone!
 Ben, East Wittering
Best surfed at mid tide, before the groynes become a menace, when it works a fun wave is to be had up to about 5 foot. Can also hold a wave of sorts when a south westerely has been blowing. At low tide the paddle out in these conditions can be knackering.
 Andy , South Coast
A regular haunt for B team winter training. Has some good clean 2-3ft waves, at times it is mushy if there is no offshore wind, leave your shortboard at home though! Longboarders rule here. Check out www.shore.co.uk for daily local report.
 Davo, W,ham
The Witterings are ok if you are looking for a wave without having to go to Cornwall, there is a decent wave on a good swell but normaly on the high tide on the push, but watch out for the groins and the pebbles, sometimes the waves do tend to break on the beach.
 Rob, Portsmouth
I usually surf West Wittering there is a big car park and friendly locals. It's a good place to come chill out, smoke up and be merry. I doubt the stoning potential of this spot has been exploited enough as it is consistantly good. The surf window for this spot is from about Sept/Oct going through to about april, but is never particularly consistant. Waves are usually small between 1-3ft. It gets more windswell than groundswell.
 Al Warren, Horsham
The trick to any of the breaks round Wittering is to catch the tide when the waves got some punch. If you turn up at low, its not driving the swell in and at high it often too deep to break far enough out. If you can see a decent low sitting anywhere off Brittany (or wind swell turned good) then get there and surf it between 4 and 1 hours prior to high tide. Stick to this and you'll your rides...
 Ross, Chichester
I've been surfing at the Witts for well over ten years, and have to say when it's good your in for a real treat. many a day have I checked swell charts, pressure charts, and wave buoys only to get to Witts to find it dumping mush onshore, but hey your there to surf so one foot mush to three ft clean off shore it's the only decent break we've got within a half hour drive. A classic long board wave and much appreciated to those of us who need a surf at the last minute but cant get to other breaks.
 Stu Mercer, Petersfield
Come on guys. Most of you are ok with Witterings but some of you are just being complete idiots. Ok it's not the most perfect spot on the British Isles but on some days it can really go off. Good points Locals, food and ok surf it's quite a consistent longboarding spot on about 2-3ft but it's fun for all and well like sum one said if you can't get to cornawall then it's ok. I've surfed it in sum of the best waves there have been and it is my local break so leave out the people eho don't care. Overall effects to the swell is wind 70% of the time but it really goes of when the low pressure comes in.
 Sam, Southbourne
The worlds most overrated surf spot. Don't bother.
 Bob, Around and about
East Wittering is without doubt one of the most frustrating places to surf, you have got to be a local to catch it right. I've just been in for two hours this morning - head high, light offshore, 8 people out all local, a good way to start the day! People always slate the wave here and that's fine, just make sure you tell your mates aswell!
 Ian, East Wittering
Being a local to the Witterings and having surfed there for the last 6 or 7 yrs I can truthfully say it is a friendly break to surf, and although it is inconsistent if you catch it on the right day it can be a good wave to ride.
 Josh Wood, Emsworth
Man this is an annoying spot. Most days it's a messy windswell mush spot and rarely produces that clean wave. I come here often but only on a strong south west groundswell which produce a nice clean 2-3ft wave on a nice day. I prefer East Wittering but to be honest it's not worth the trip. Nice locals and a cool surf shop nearby.
 Sam, London
The summer has been tragic. Flat with occasional glimmers of hope and some good sets on some weekends. Bracklesham is where most people go, real freindly and the car park is cheaper than other places. Winter 2001 was good but cold, roll on winter.
 Stu, Bracklesham Bay
To be a surfer at the Witterings you have to be prepared to surf mush because that's what you're going to get 90% of the time. However in a south westerly groundswell with north easterly winds this beach can get good. The outer banks at West Witt were really good in autumn this year and you could get some awsome barrels but since then the banks have gone and so have the clean swells it seems! East Witterings is definitely a longborders wave and the waves here tend to be very weak but can have long rides. Backwash at high tide is a bummer! One thing's for sure you have to be patient and probably have to become a part time meteorologist to catch the good surf.
 Mat, Portsmouth
Used to live in Portsmouth and regularly surfed the Witterings and Bracklesham. Not as good/consistant as Dorset but generally a very good crowd in the water and it can surprise you on the odd occasion ! Bracklesham can be a very underated wave on a good groundswell.
 Dave, Dorset


Ross, Chichester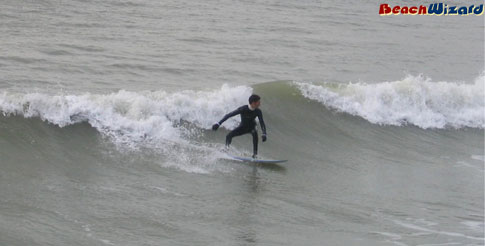 Lucy S & Andy F, UK