Brighton, England 

BREAK TYPE:

beach / reef

WAVE DIRECTION:

various

IDEAL WIND:

south westerly

IDEAL SWELL:

southerly

IDEAL TIDE:

all

HAZARDS:

rocks / rips

AVERAGE WATER TEMPS:

7° - 15°

DIFFICULTY:

intermediate

RATING:

3/5


The West Pier is a mellow, cruisy (not in the other often used term in Brighton!) low tide wave, The Wedge and C**t's Corner are wedgy speedbump waves near the Palace Pier, the Barge is a mysterious seldom surfed big wave spot off the Palace Pier. The Marina (aka Custard Point) to the E of the Marina is the heaviest, most localised, beach / reef break in the area which you need a long apprenticeship at to be accepted.
 Anon, Brighton
The Marina is absolutely useless if you like riding any board more rockered than the ironing type.
 Anon, Brighton
Thanks for the advise Anonx2.. But I cut my teeth at hotpipes over 9 years ago. I'm sorry but the fact remains that the Marina is THE heavly localised Brighton meathead break. I know why... It is easily the best break in area... Well for the sh!te lets get excited over 3ft windswell Brighton Coast. I haven't surfed the South Coast in 3 years so maybe the marina's changed but i somehow doubt it. I'll stick with N.Devon. Pollock Wier and Lyndmouth.
 Paul, Ex Brighton
How did Brighton get three stars? The Witterings are on average cleaner and more consistant.
 Al Warren, Horsham
Since the west pier does not work anymore unless big southerly swell is coming in, the marina is the only other place and it may not be the best place around but it's all there is without having to drive miles and miles away. If you aren't ignorant and snake any one and keep your cool then the locals are fine. Instead of slating it why not try and put some useful information on there so people who want to and can surf use it. So people can actually surf in Brighton. P.S surfing is a relaxing, chillin hobby or sport so just calm down.
 A surfer with sense, Brighton
Sadly localism at the marina is a considered policy by those who surf there, and this is not just directed at those that can't stand up!!!! A friend worked with one of those in question. So I think surfing there is a really good idea because people with minds as small as this need to be challenged. So I am going to start up a surf school at the marina and fill the break with barnies............ Get a life the ocean belongs to everyone.....
 Davie, Shoreham
The marina is a chalk reef that breaks on the east side of the marina. It is the best break in Brighton. I have tried surfing there twice and both times I just got hassled out the water. This break is surfed by a miserable localised crew. If you do go in it is an easy paddle out but watch out for hazards on the marina wall. The wave is fairly crumbly but it is the south coast so there you go! It can break either right or left. It is worth checking it out if you want to see just how good some south coast surfers are. Jamie from Scotland should have a look.
West pier is a long board wave that has no power and is really slow.
Me, I've moved to the West Country to more powerful waves and friendlier breaks.
 Paul, Ex Brighton
Brighton is shit, the Marina is full of pricks who are shit scared of proper waves with the exception of a few. The Wedge is the place to go when its on, shame it hardly ever works. I'm fucking off abroad.
 Tozer, Brighton
Brighton is shit true. Paul why would I watch surfers down the Marina? I've never even watched top pros in my travels. I prefer to surf. And I started surfing at the marina!!
 Jamie, Scotland
I'd just like to say that when the wedge works it's the heaviest wave down here. It pisses over everthing else and only a few can ride it properly. The rest of the breaks are weak and offer nothing. But please don't come down as there's already enough. Stay at your weak break!
 Tozer, Brighton
As one of the small group of surfers who discovered the Marina in the 70's (along with JP. Tim Mellors, Cliff Cox etc) I am glad I got out when I did. I am now living in north Devon and have recurring nightmares of 2-3 ft windmush and 50 meat eating quasi groms.
 Martin, Barnstaple
Lots of people miss the point as usual. When you get your home beach on that one good day, it beats most sessions you have on your travels, even if the waves are still crap compared to what you get on holiday. Pleased to see no comments about the best break in the area at the moment-seek but don't find.
 Matt, Hove
Piss poor waves, some OK locals but most have attitude prob and a surfing disability.
 Josh, NSW
I am not a local for the Marina, but have been surfing there for many, many years. To those two numpties who wrote comments on the Marina: A: it is by far one of the best waves around, you can get barreled on a good day. B: You only get hassled if you can't stand up, in which case 'hotpipes' at Shoreham is more for you. Yes the local crew are heavy, but it never comes to fistycuffs, stand your ground be a man, and learn to surf, then you can surf there. From, a non-local, but Marina addict!
 Anonx2, ?
I agree with matt... there is no point in dissing the waves quality round here as we only live on the south coast anyway... besides, I surfed in brighton several times and had no aggro whatsoever by anyone... maybe it`s because you get what you give... dunno. Enjoy your waves wherever.
 Rob, Eastbourne
Brighton Marina is a quality wave in a land of rubbish wind slop. 80 percent of the people out there are rubbish surfers but really love it and good on them for giving it a go. There is one guy who surfs there on a mal and he rips... incredible really with that much rubber and inconsistant swell. The locals seem nice, happy to talk tides and conditions with stupid Aussies. I've gone home now and am looking forward to those winter Sydney days were it lined up swell, crisp clear offshore wind and water that warms your feet after the freezing run across the sand. Localism is not real, just learn the rules and be friendly and don;t take your self so seriously (and anyone at hot-pipes or the marina etc who thinks that they are a local... don't be fooled by those lost idiots in the Canarys or those fake US surf films, localism is gone - everyone travels.. including you). Marina is protected during a sou'wester and works from mid to high and back to mid... get there early and wait - because it happens quickly. Take it easy.
 Mix, Sydney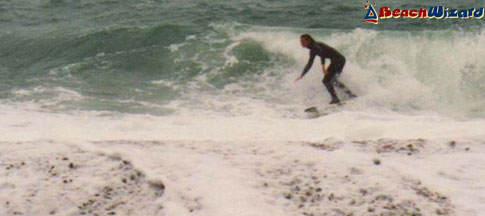 David George, surf98.com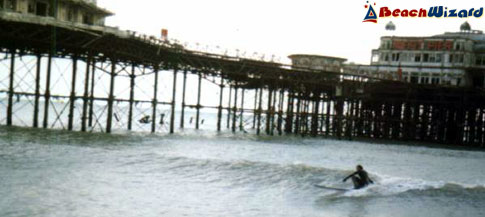 David George, surf98.com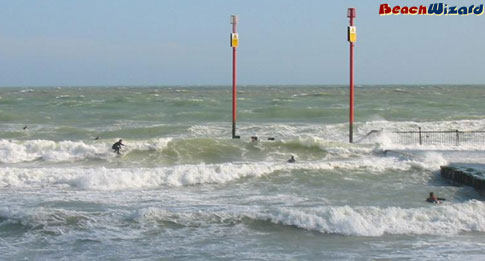 Dan, Surrey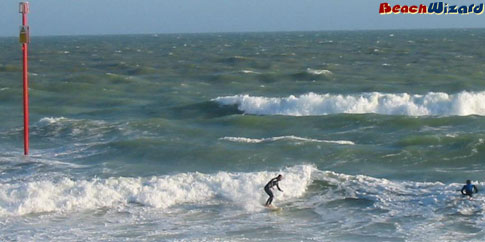 Dan, Surrey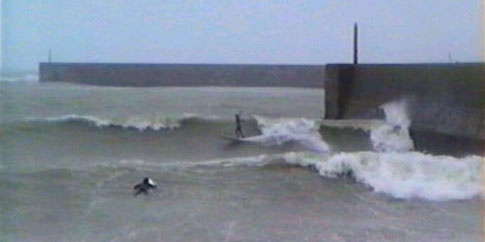 Ad, UK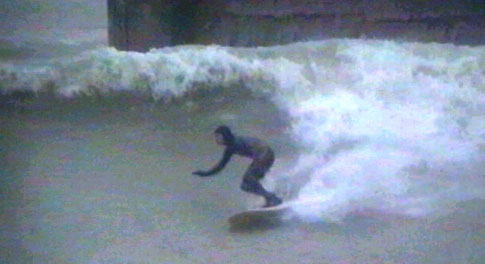 Ad, UK