Niton, England 

BREAK TYPE:

beach

WAVE DIRECTION:

right

IDEAL WIND:

northerly

IDEAL SWELL:

south westerly

IDEAL TIDE:

mid - high

HAZARDS:

rocks

AVERAGE WATER TEMPS:

7° - 15°

DIFFICULTY:

intermediate

RATING:

3/5


Niton is a shit hot break at high and low tide apart from the odd rock and a slite rip it is a nice break.
 Barnes, Ventnor
A consistent spot that handles most south west winds. It's good from mid to high tide but on a cleaner swell offers hollow fast rides at low tide.
 John Hitt, Ventor
A good fun wave when it is from 2-4ft but any bigger it becomes a lot more powerful and slightly more unpredictable. There are actually 4 peaks in the same bay 1: Right off the point you can get some really decent rides with a shallow hollow peak, it only breaks when it is big and there is a current. 2: The main peak below the caravan site is a good shallow and quite a hollow wave when the conditions are right. 3: There is a peak off the house that peels right with the odd random left, it's not as powerful as the other peaks but is a longer ride. 4: A shallow peak just the other side of the channel, this gives some mellow rights but when it is clean with a spring tide it gives some extremely sucky lefts jacking up over a shallow shelf of the rocks..........damn good!
 Jamie R, Sandown, Isle of Wight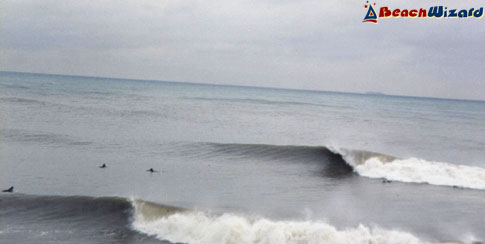 Jamie Russell, geocities.com/surfontheisleofwight/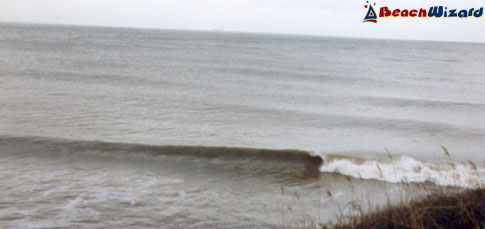 Jamie Russell, geocities.com/surfontheisleofwight/