Sennen Cove, Gwenvor, England 

BREAK TYPE:

beach

WAVE DIRECTION:

various

IDEAL WIND:

easterly

IDEAL SWELL:

southerly

IDEAL TIDE:

low - mid

HAZARDS:

rips & surf school

AVERAGE WATER TEMPS:

8° - 16°

DIFFICULTY:

beginner

RATING:

5/5


The best beach in Britain. I went to Sennen beach which was flat, decided to paddle round the rocks in the middle of the bay to Gwenvor and got glassy 2ft waves with the odd 3ft set coming in! picks up any swell - awesome!
 Ian Taylor, Hinckley
Check out ayr point (little rock formation, creates a little reefy take off) to the right hand side of Gwenvor as you look from the beach, optimises any swell in the bay, especially on push at mid tide.
 Ben, St Ives
I love Sennen Cove! Even though I am only 12, I go bodyboarding with my family and we usually bodyboard in Sennen cove. 'A mile of Golden Sand' is what they call it!
 Jenny Dean, Market Harborugh
Sennen is the beach where I learned to surf so I have always had great affection for it. It is so far west it is first to pick up any new swell. I love this place so much that my newborn son is called Sennen!
 Simon, Weymouth
Sennen is great, go around the rocks off the main beach and it breaks perfectly. We only had 2-3ft but I was getting 15 second rides.
 Tom, Hassocks
This place rocks. I have surfed here with basking sharks swimming behind the lineup. Often sunny, crowds are never too bad and great fun, though it doesn't work at high tide too well. Picks up any swell. If it's flat here, so is the rest of Cornwall so enjoy the sunshine and stay put!
 Dave, Brighton
If you want a beach which has very reliable surf and can really hot up in the falls then sennen is the place. I rode 6-7ft glassy peaks here this year (2003), my most memorable moments surfing are down to Sennen, I would say that this beach is the best in England "Yes i think it beats Fistral".
 Chrisy, Penzance
I was there this summer and were having 5ft without any power I don't know if I was unlucky but you need at least 6ft here to make it worth it for me go to the west of the lizard, shorter rides but the best I've ever had.
 Billy, Manchester
Last year week before Easter up to 8' and offshore. What a place reminded me of a French beach break but better if you staying in a holiday cottage overlooking the beach. Watch out for the rocks when you get tired.
 JG, Cardiff
I'm 15 years old and a bodyboarder and usually go down most days after school to Gwenvor as it receives any swell there is.
 James, St just
I went to Sennen cove last summer. It was the first time I went there and definitely isn't the last time! It the best beach I have ever surfed! You guys who live down there are really lucky!
 Mark, Winchester
Has to be the best surfing beach in England! I went there in July last year and the surf was HUGE! Definitely going back!
 Tom Lord, Exmouth
Great beach. Went to Sennen last summer during a flat spell and came across this little beauty! 2ft glassy peaks and only 4 guys out. Stoked! If it's flat everywhere, try it! You never know, til' you go!
 B.K., Cornwall
What can I say? Just the greatest beach in England...
 Craig Kistle, Redruth
If you surf, have a car and check it out. It's the most beautiful bay in the UK! I surfed it August 2001 5-6 ft and glassy sunshine and crystal sea it's amazing.
 Alex, Weymouth
On the seventh day after surfing from Polzeath down , I camped above Gwenvor. I can only say that if I never surfed again it would not matter, I felt so stoked that you couldn't remove the smile for weeks. My perfect day happened, the benchmark is set.
 DevonDubAllstars, Torquay
If there's no surf at Sennen then Gwenvor normally has and when it works it's great, especially when you get some perfect glassy tubes on the shorey about mid tide (tides and swell dependant). I'm a bodyborder and I love it when it goes off, it's heavy, fast and fun but, very temperamental, be sure to treat her with respect and you'll enjoy your sesh! Have fun!
 big 'E', Pendeen / St Just
My favourite! Trekking 6 hours to Cornwall for a surf means that it's nice to know you're gonna get waves when you arrive - Sennen delivers every time, and is a beautiful place, great pubs! I'll be coming back here till I die!
 Rachel, Warwick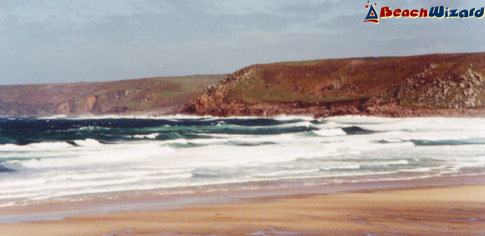 Gav, BeachWizard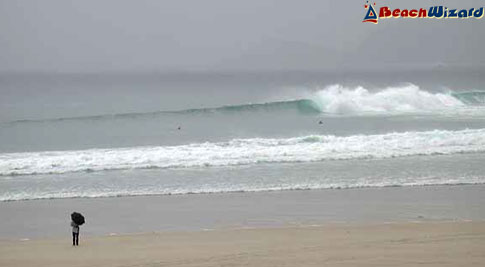 James Wright, Bristol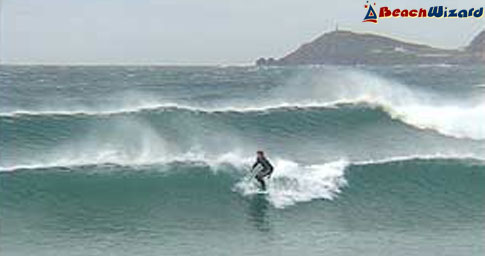 Ross Stanley, UK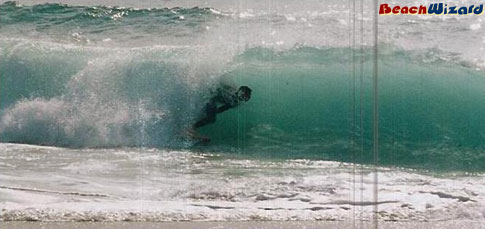 Tim, UK