La Torche, France 

BREAK TYPE:

beach / point

WAVE DIRECTION:

various

IDEAL WIND:

easterly

IDEAL SWELL:

westerly

IDEAL TIDE:

all

HAZARDS:

rips / crowds

AVERAGE WATER TEMPS:

11° - 16°

DIFFICULTY:

beginner

RATING:

3/5


Lived in Quimper for a year and went surfing pretty much any day there was surf. Sponged on closed out days for a laugh. Nice memories of spending 6 hours in the water until 10pm. Locals were friendly and never had any problems. Use the rip to get out, makes it that much easier. Waves were all sizes up to about 10ft with rarely much power behind them. It did get a little crowded during summer on good days. There are some nice spots further down the coast if you want to get away from it all. Go and investigate!
 Otto, Bristol
Surfed La torche last oct (2003) a couple of days (3-4ft glassy) before some storm swell rolled thru.... then 20-25ft rollers...what a sight...what a storm.. If you want to get out back..then take L'ascenseur (the lift); you can get off by paddling right and taking the waves or just sail right out back...be careful it can travel at approx 8 knots.
 Steve, Doncaster
Some quality waves even on onshore days but watch out for the rip on the left (it can be used to get out back) and especially watch out for the locals. The weekends are ridiculously busy even in the worst conditions, and it is apparent that there is no French translation for "drop-in". The beach is long so you should be able to find OK waves further down with less crowding. There can also be some weird-ass smells coming from the sea (creosote?) and effluent streams in the car park! A bar/creperie & shop all situated in the car park.
 Carl, London
A really nice wave. I surfed it at about 4 to 5 foot in August. Rumours about it being crowded wern't true. Lafetainea and La Sauzaie are really where you need to worry about crowds. Lots of seaweed and yes, a strange smell.
 Sophie H, The Ho, Devon
An excellent place to visit. I have been here for the last three summers in about August / September. there is always something to surf from blown out slop to "oh my god!!". It can be very busy at weekends but is a long, long beach. Check out 'Le Rayon Vert' for some top food.
 Derek Smith, Herne Bay
Great beach. I found the locals pretty friendly but with liitle idea of the drop-in rule as written above particularly in holiday times. Even then it is not difficult to avoid the crowds, particularly in the early morning and late evening. Agree about the intermittent smells. Cracking food at the bar/bistro and friendly surf shop-the one with the surf school. I had no problems sleeping in the dunes.
 Joe, Hebden Bridge
A total beginners beach a medium break that can get a bit annoying, very unpredictable but is ok on most days and can be very good on others the only hazard is there are hundreds of tourists and beginners on boards who drop in on you on every minute of the day hard to catch a good wave without some idiot spoiling the run and clean lines overall. I spent many of my days here last summer but by far the best time to come is in the evening or in the morning.
 Ollie, Ripon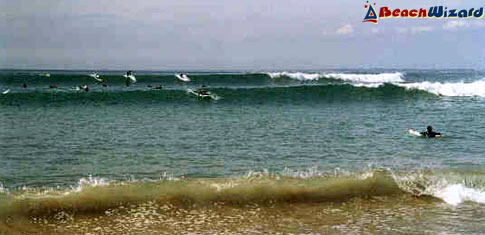 Jean-Philippe ROLLIN, www.surfdawave.com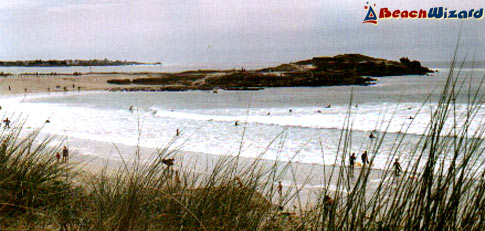 Jean-Philippe ROLLIN, www.surfdawave.com