Coumeenole, Ireland 

BREAK TYPE:

beach

WAVE DIRECTION:

various

IDEAL WIND:

north easterly

IDEAL SWELL:

south westerly

IDEAL TIDE:

low - mid

HAZARDS:

rips

AVERAGE WATER TEMPS:

9° - 15°

DIFFICULTY:

intermediate

RATING:

3/5


I have surfed most places in Ireland and this is the best, most powerful and isolated. Get it glassy on a sunny day when the water is clear at 5-6ft and its like HEAVEN!!!!!
 John,
I went once and the weather was fantastic and the surf was average but looked to be dropping so we went on the piss in dingle town that night.next morning, nursing a hangover I paddled out to over head barrels to the beach with bigger sets... pure sickness. It's an animal wave which can get BIG....QUICK. feckin excellent!
 ehh I know you!, Dublin
I love this place, you could be in Hawaii on a good day. It is hard to read and the waves vary but one of the nicest places on the planet to sit in the ocean (look at the bottom of the ocean bed).
 G, Dublin
Up there with the East Strand, Strandhill and Tullan, this is probably the best beachbreak in Ireland. NOT for inexperienced surfers as it is very hollow and there are strong rips. In the right conditions you'll get some great barrels!
 Tom, Ireland
An over hyped break. This is a fickle beach which must have north easterly winds to work and a due south swell, any other conditions and it will close out. It only works about 3 times a year and when it does it can have good rights depending on the banks.
 McBain, Dublin
On a good day it can be heaven with clear warm waters. It has strong rips and tends to shore dump from mid to high tide. PARADISE!
 cynic, cork
I surf here as much as possible, being my local. Conditions need to be perfect, but when it is OH YES IT IS HEAVEN! If it's not prepare to be hammered a few times! I think it works best on a low incoming tide. There is also a fast break. All good fun!
 Sean, Ventry
I have surfed here since I was born and it is my favourite beach in the world. It's one of the only beaches in Ireland that can hold a solid 10 foot wave, but it can get pretty packed in summer.
 Big T, Dublin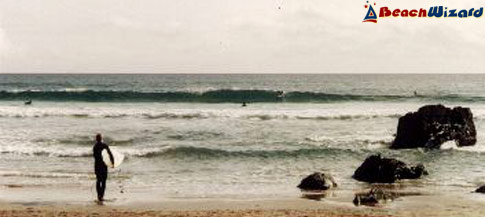 G, Dublin

Kevin, Co.Clare