Inishcrone, Ireland 

BREAK TYPE:

point

WAVE DIRECTION:

right

IDEAL WIND:

south easterly

IDEAL SWELL:

northerly

IDEAL TIDE:

all

HAZARDS:

rocks / rips

AVERAGE WATER TEMPS:

8° - 14°

DIFFICULTY:

intermediate

RATING:

4/5


A fun wave when the conditions are right. of the point if your good you will get your tube.
 Maxie Hill, Kildare
Also a good beach break that works best as the tide drops over the sand banks.
 Ciaran, Dublin
A good wave when it works, usually clean but not the most consistent. It can go for up to 3 weeks with nothing happening.
 Arian, Claremorris
I live in Enniscrone and started surfing the beach 23 years ago. I have seen hundreds of surfers come and go and the only ones I despise are the rude ones. So leave your bad manners and light glassjobs at home if your visiting.
 Mark, Enniscrone
There is also a seal that does pop his head up every so often on the quiet days, straight out from the lifeguard station. Don't be like Leo and lock your keys in the car though, Aideen will kill you.
 Dolphin man, Bunni
I surfed this reef 2 days in late september at about 6ft, it was the most fun wave I've surfed. A great wave, great town, great Guiness and very good people, so show a bit of respect in the water.
 Steve, Down south
A decent beachbreak with a reef as well. Surrounding areas contain some of the best waves in Ireland. If you know what you are doing then you will get pitted. Cain Kilcullin rules this place.
 PDN, Cork
Nice beach, nice people, nice town, nice pubs, nice beginner location. Inishcrone you truly deserve your blue flag.
 Anonymous, Dublin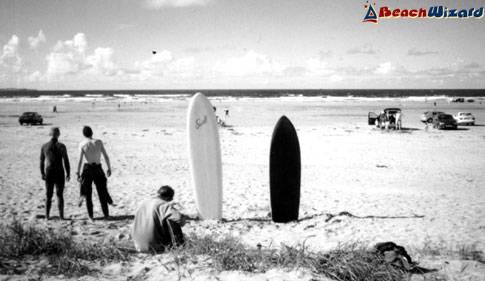 Gearoid Muldowney, Castlebar