Porth Ceriad, Wales 

BREAK TYPE:

beach / hollow

WAVE DIRECTION:

various

IDEAL WIND:

northerly

IDEAL SWELL:

south westerly

IDEAL TIDE:

all

HAZARDS:

none

AVERAGE WATER TEMPS:

8° - 16°

DIFFICULTY:

beginner

RATING:

4/5


On the right day, this kicks ass, if you bodyboard (properly).
 Skippy,
The best beach ever! Many times I have gone down in storms there! Waves sometimes 15ft! Wreckless and powerfull! Once I got drifted out by under current with friend! Had to get our boat to go round from Pwllheli marina to 'save' us!
 Chris, Abersoch / Alty
A nice hollow wedge, good left at low tide near the cliff with swell bouncing off the cliffs all through the tide causing perfect hollow A frame peaks in a northwesterly wind. Some cranky locals!
 Morg, Bangor
This is a good sheltered spot to go when Hells Mouth is blown out. Can be good on its day. The beach is steeply shelved so the waves can be dumpy, breaking pretty close in. Often not a very long ride.
 Andy, Manchester
The left side of the beach can produce waves of up to 6ft in north easterly's or southwesterly's which are decently strong. Almost all the waves are wedges which peak dramatically and the waves can get crowded in the summer, rides tend to be brief.
 Henry, Benllech
When its on short, powerful and hollow. Top wave.
 Slacko, North Wales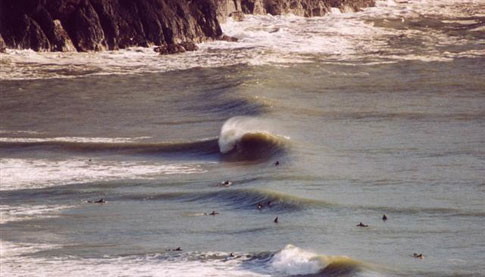 Trevor Hamilton, Derbyshire, UK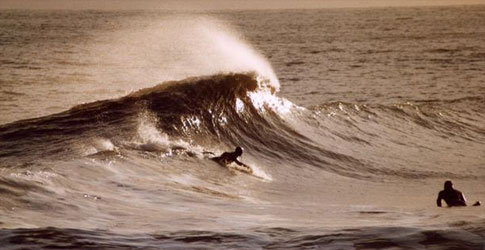 Trevor Hamilton, Derbyshire, UK