Hells Mouth (Porth Neigwl), Wales 

BREAK TYPE:

beach / reef

WAVE DIRECTION:

various

IDEAL WIND:

north easterly

IDEAL SWELL:

south westerly

IDEAL TIDE:

all

HAZARDS:

rocks / rips

AVERAGE WATER TEMPS:

8° - 16°

DIFFICULTY:

beginner

RATING:

4/5


This beach has 4 main breaks and is the most productive of the Llaen. The beach, which is of a large size, picks up the faintest of southwest background swell so if this place is flat forget other areas.
 Nic Lomax, Nefyn
The water quality at this beach is one of the best in Wales according to the EA. There is sea borne rubbish on the beach at times though this is now cleaned regularly and the beach has just been give "Green Coast" status (bit like a blue flag).
 Chas, West Coast Surf Shop
A great place. It is very inconsistent in the summer but does get some very powerful swell. Take a walk and you will find your own wave. Not polluted.
 RHS, UK
I couldn't of asked for a better oppurtunity to surf. As an experienced surfer I love the awe of huge waves but my hefty build often lets me down. The waves were in excess of 15ft. Watchout for the seals as they go for well built people as I learned the hard way.
 Dan Scialom, Heald green
Was at the mouth on Monday 30th December. Awesome. As big as it can handle which is about 8ft (15ft??????) clean and long rides breaking all the way across the bay. Great way to end the year.
 Nick, St Helens
When it's on, comparable to the best day at G-Land, fast, hollow waves rope down the peninsula for 300 metres, rarely sectioning. So many classic sessions here I can't even begin to tell you. Generally a relaxed place. The Llyn has a magic atmosphere.
 Jim Lowe, Wrexham
Hells mouth is sound but 15ft... Please...
 Nick, St Helens
Usually has pretty good surf in the summer, The best time to go is high tide. The best beach on the Lleyn from a long way!
 t&c surfboards, Pwllheli
Lets be honest!! Comparable to G-Land I think not! Yes the 'mouth gets good waves and the corner is enjoyable but on all but the very best of days its a big fat wegde, rather than hollow. Picks up most swell in the area and a good indicator to start looking for other spots.
 Slacko, North Wales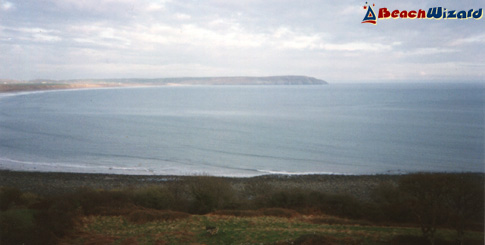 Gav, BeachWizard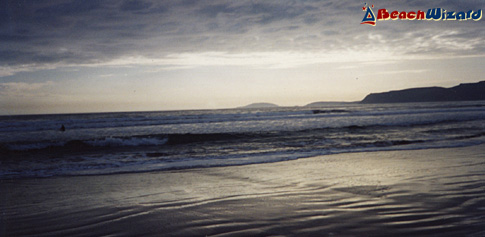 Gav, BeachWizard