Sutton on sea, England 

BREAK TYPE:

beach

WAVE DIRECTION:

various

IDEAL WIND:

southerly

IDEAL SWELL:

northerly

IDEAL TIDE:

high

HAZARDS:

none

AVERAGE WATER TEMPS:

6° - 12°

DIFFICULTY:

intermediate

RATING:

3/5


On its day it is probably the best wave I have ridden! It works best at low to mid tide. Very easily blown out and beware of the brown floaty stuff!
 K.Webster, Grimsby
Sutton has many breaks, working on all tides. The water is very bad!! Only go if it's been a long flat spell! If the rest of the east coast gets 6ft, Sutton gets 3ft of it. If you go you will find out why they call it sucky Sutton.
 Jez,
If you are pissed off with crowds during a good swell (6ft at Scarborough) then try out Sutton on Sea. Locals complain about the water quality but excess sediment and a part clay bottom discolour it.
 Lee Thompson, Cleethorpes
After spending a lot of my youth surfing this wave I can count on one hand how many times I've had it good. I would say it was more like 1 out of 5. Personally I would head up the coast to Scarborough.
 johno, Plymouth
I have to say I agree with Johno and Jez. Sutton sucks! It's often crappy and not worth the petrol money. It got wrecked when they dumped tonnes of sand on the beach as coastal management. It gets good once in a blue moon for the desperate locals!
 Dave stevo, Grimsby
Had a crap time here as my board got caught on some submerged breakers that were poking out just above the clay... drank a bit too much shit... On a good day we had it good 4-5ft at south end of Mablethorpe... be careful if surfing the sewer pipe end at the north end (town centre) beach.
 Steve, Ex Plymouth + missing it
Sutton stinks! The former top east lincs break is dead. The best is a mile or so north at Trusthorpe or the car park before the north end of Mablethorpe.
 Jonesy, Cleethorpes
Chocolate milk anyone! If you want a GOOD surf, head north or west - but I have a love/hate relationship with this place - For one or two days every 4-5 years I like it, usually in Winter with a stiff south westerly, the rest of the time it has to be the single most frustrating place on the planet to surf (apart from Skegness maybe). But its my home break so what the fuck.
 Dave B, Cleethorpes
This is my local break and I learned to surf here, for that reason it holds some good memories. It is rarely good though and when it is (mid winter usually) it's well freezing! Also the sediment (not shit) turns the wax on your board brown, which is a bit crap.
 Pete, Alford
Get a grip boys, this place rocks!!
 Fez, Cleethorpes
Oh dear. I'm afraid when I wrote my first review, I was a little bit keen on my wave judgement. Having moved away a few years back and now living on the north east coast with its selection of points, reefs and class beaches, need i go on.......
 Keir Webster, ex Grimsby Pat
How can you surf it. It's always flat when I go.
 Luke, Lincoln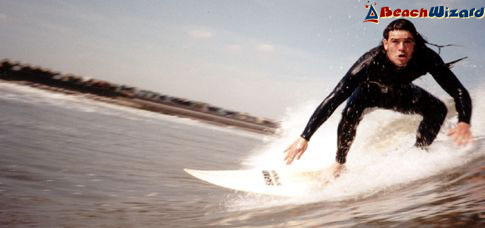 Jez, armchairhero.com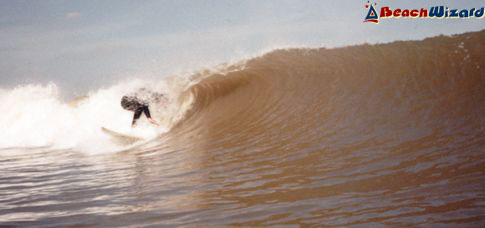 Jez, armchairhero.com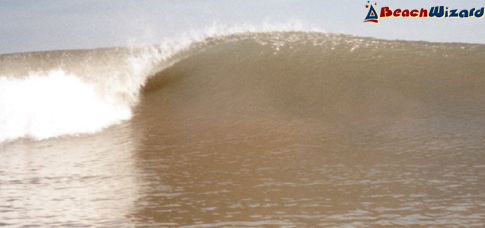 Jez, armchairhero.com