Tramore, Ireland 

BREAK TYPE:

beach

WAVE DIRECTION:

right

IDEAL WIND:

easterly

IDEAL SWELL:

southerly

IDEAL TIDE:

all

HAZARDS:

none

AVERAGE WATER TEMPS:

9° - 15°

DIFFICULTY:

beginner

RATING:

2/5


This break is at best described fickle and poor. The south coast picks up so little swell that it is a wonder there are surfers there at all.
 Vince, Clare
Is always onshore, only once in a blue moon does it get good. Swell window is so small that waves lack the real power of the west, but the local surfers are good and are a nice bunch!
 Martin Corr, Sligo
Ah go on The G man!!!! Tramore can be fun. I surfed it once on a low tide very bad water, dirty and the smell was like an ash tray sounds odd but its true. But when it's on you got to get out. Still not to worry the northern beaches are rocking this time of year!!!!
 Black Dave, New Ross
Tramore can get really good with 4ft+ waves breaking cleanly but this rarely happens. Water is extremely dirty, this problem will be fixed in a year or two but until then, STAY AWAY!!!!!!! Travel to west cork instead, it'll be worth the extra mileage.
 Mahatma, Waterford
Shut it! Tramore KICKS ASS!
 Pat, Waterford
Why don't you all stop complaining about the pollution, the wind, swell direction and crowds. If you really want to surf you will just forget about the negative, think positive and go surfing!
 Vinny, T-Bay
Travelled over there from Pembrokeshire last year... not a bad beach, but surf is very weak and can get frustraiting.
 Scott, Haverfordwest
I learned to surf in Tramore. It's alright for beginners but not much of a challenge once you get the hang of it.
 Ciara, Dublin
When we were there we got our asses kicked by the massive breakers. Slight problem with blue jellyfish and plenty of them!
 Mordread and Hey Zues (not Jesus!), Clonmel co. Tipp
A nice place to windsurf when the wind comes from the north. A nice wind effect with the small hills behind the water.
 JP, Strasbourg, France
The water is filthy! Boat cove is less than a mile away and is closed to swimmers because the water is so badly polluted. I would not recommend it.
 Tom Boland, Dublin
I surf Tramore regularly and when we have the right conditions it's good but this doesn't happen too often. Definitely not for summer surfing. Water is far from clear thanks to the council.
 Niall, Tramore
The 23rd of March in Tramore was a good day fo swell but MAN the beach is toooo dirty. A pipe line feeds waste into the sea about middle way up the beach and the water was full of brown scum that day, which can be said for most days too. It's a pity!!!
 Gerry, Sunny South East???
This average beach break is good in the winter months. If it 4ft+ and onshore the pier is a good place to try. Tramore can get really good on its day. When the sandbars are lined up and when its 2ft+ offshore, surfing it at low tide is really good because it is fast and hollow.
 Max Power, Tramore
Hey Gerry from Wexford! You have to be kidding me about carnivan I surfed there once this year and ended up with a rash all over my face and hands the water looks clean but apparently there is shit being pumped into the water just around the point under the tower in Baginbun which flows straight into the bay. In any case the beach can't hold much of a swell anything over about two foot it turns to soup. Happy trails!
 Stork, Dublin
Tramore is a great beginners wave but that's about it. Everybody knows the west is best for waves with more grunt. Christmas '02 was the longest run of swell I've expierienced there, lasting 14 days. It really showed all the aspects of the place from small and clean to big and dumping. Try Annestown reef if you wanna get barreled.
 Jamie Kirby, Tramore



Jean-Philippe ROLLIN, www.surfdawave.com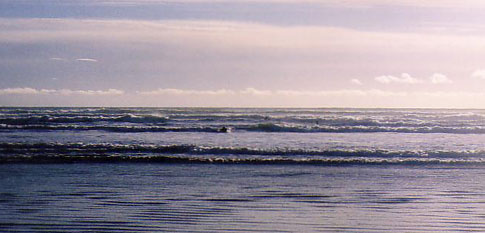 Con, Ireland