Garrettstown, Ireland 

BREAK TYPE:

beach

WAVE DIRECTION:

various

IDEAL WIND:

northerly

IDEAL SWELL:

southerly

IDEAL TIDE:

low

HAZARDS:

submerged obstacles

AVERAGE WATER TEMPS:

9° - 15°

DIFFICULTY:

beginner

RATING:

3/5


A great spot for beginner to intermediate surfers. 40 mins from Cork and there are loads of waves for everyone. North winds blow offshore.
 John, Cork
A great little beach for beginners, very friendly atmosphere, waves can be a bit dissappointing even when weather for surf seems promising.
 C.M., Edinburgh
Not a very good beach. The waves dump very close to shore when the tide is out and when its in it tends to get very messy and is difficult to get out.
 Mik, Cork
T-bay picks up more swell than Garretstown on your standard southwest swell, also the banks are marginally better in Tramore and Bunmahon.
 Daithi, Tramore
T-Bay picks up less swell than Garretstown on a standard SW swell. Look at the Virtual Buoy readings and the topography. However Garretstown's quality is not great, even on a very clean swell with offshore conditions it mostly closes out except for a small lefthander near the centre rip and a dumpy righthander near the rocks. Can be OK at 3ft and low-mid tide.
 Anon, Cork
I surf it twice a week. Good for beginners, but not much for intermediate and above. Loads of beginners and a good friendly buzz. Definitely a low tide beach only, it rarely gets clean sets. At high tide the road wall gets VERY close. Watch for the rip on the Clonakilty side near the rocks during an onshore as it sucks dry on the reef. The beach around the headland (Garrylucas) can work when Garretstown is blown out. Also steeh h-iron stumps where the groyne used to be mid to high tide.
 Kieran, Bandon
Absolute rubbish!! That goes for the standard of surfing there aswell, if you're not used to this place you'll be gobsmacked at how poor the surf can be, head further west it's nearly always a foot or two bigger and has a little more grunt.
 CPOH, Cork City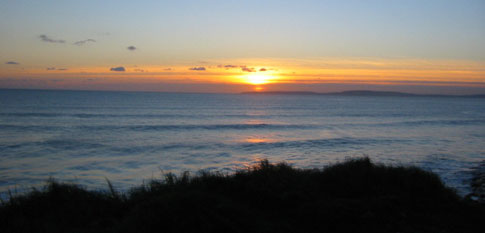 Lynda O'Mahony, Glanmire, Co. Cork