Crab Island, Ireland 

BREAK TYPE:

reef

WAVE DIRECTION:

right

IDEAL WIND:

easterly

IDEAL SWELL:

westerly

IDEAL TIDE:

low - mid

HAZARDS:

rocks / rips

AVERAGE WATER TEMPS:

9° - 15°

DIFFICULTY:

expert

RATING:

5/5


The wave is very heavy and dangerous after 5ft. It is a fast right hander which if you don't make will put you onto the nearby rocks. Paddle out to it is deceptively long. Also here is Doolin Point. Another fast right but not as big as Crab.
 Stevo McGrath, Portrush
Jesus we'd none of us go anywhere and learn nothin' if we all listened to the Clare scare monger factory. Yes its heavy. Yes its a long paddle. Yes you could get hurt. NO there is not a sign that says "Clare Surfers Only"...so weigh up the pros + cons, know your limits and if you're gonna go then don't hesitate.
 Brian N, Tramore
This wave jacks up out of nothing and forms a huge barrel before finally spewing huge chunks of spit into the channel. More of a bodyboarding wave because it jacks up real fast. If you want to surf it you have to be real quick to your feet. ONLY 4 PRO'S!
 Tom, Ireland
Never surfed it don't think I will now after reading the above thanks for keeping us beginers intact, I tend to listen to others who aren't experienced and would be the first to follow like a dumb sheep I know now that I won't.
 Marman, Dublin
Everything about this break is dangerous, so use your head and be honest with yourself or else your only reward will be a broken board a long swim.
 Anthony O'Flynn, Canaries
A very fickle wave as it only works on a light easterly wind otherwise it is more or less completely blown out and it needs a specific swell direction for it to tube. Another over hyped spot in Ireland. It is probably the most dangerous wave in Ireland.
 T.G., Dublin
I have been surfing this spot for at least 5 years, I have seen surfers crack there skulls, break their arms and many, many snapped boards. Most people see the wave from the shore, get excited and then they paddle out and don't even catch one wave because they realise that it's way out of there league because they didn't listen to people saying "only for the very experienced". To surf here you have to be able to cope with looking at the reef inches below you and the fact that if you wipe out you are GUARANTEED to hit the spiky reef. Nice thought! In conclusion, it does get good but you have to know your f#%$in limits!!! Stay at lehinch if you want to have a good surf.
 Adam, Lehinch
Bodyboard wave? Get real! Overhyped? Stick it mate! This is the best wave in Ireland and it is a very difficult wave to surf and is very hollow. If you're not sure - don't go.
 Vince, Clare
This wave is for experienced surfers only. Inexperienced surfers have followed others out and not realising the dangerous conditions have found themselves in the wrong position, getting washed up on to the Island if they're lucky. What do you do when the horizon rears up in front of you, you're faced with a seven wave set thats getting bigger by the wave, how long can you hold your breath for, can I swim back to shore if I snap/lose my board? Surfers have tried surfing this wave on boards not suited for this type of wave, pop outs, bic mini mals etc. Others have paddled out and forgotten all about etiquette, paddling for every wave that comes, not taking their place in the line up, forcing others to sit deeper and deeper until that one huge set comes through and cleans everyone out. For those who someday yearn to surf such a demanding wave, work yourself up to it by gaining experience on other reef breaks get to understand what goes on and why the wave breaks a certain way on a particular stage of the tide, where the rips are, where the safety zone is and don't forget check swell directions and weather forecasts!
 WCSC, Lahinch
If it's your first time, don't go out if you think it looks small, 'cause it's not. The first time I went I lost a fin and my knuckles.
 Tim, San Diego
Don't mind the Clare boys trying to scare you off. It's a similar wave to Tullaghan right. The only thing you have to be worried about is your fitness for the paddle home which looks further than it is.
 Daithi, North West
This wave is super fun up to about 3 feet but anything over that and it's a sick barreling pit that breaks in shallow water and very close to rocks, only for experts as the paddle out can be a killer.
 Daniel Gow, Lisburn
Daithi you're wrong... Have respect or you will get hurt. I've surfed around the world for 20 years recently moved here. This place makes a noise that makes you shiver with excitement. respect it and it will deliver. See you all out there soon boyz, you know who you are!
 Jeffcop, Liscannor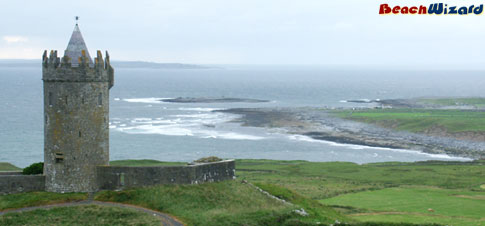 Mikko, Helsinki, Finland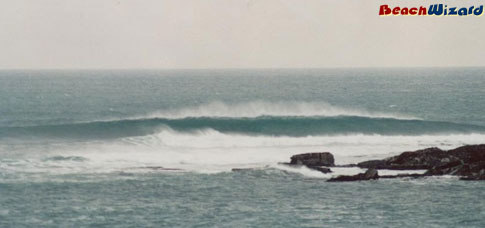 Andy Linnane, Clare/Cork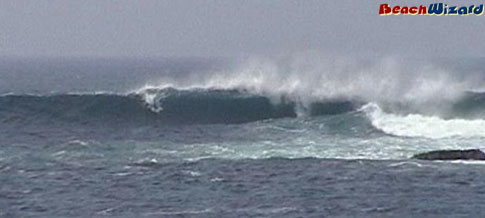 Simon, Ireland