Achill Island, Ireland 

BREAK TYPE:

beach

WAVE DIRECTION:

various

IDEAL WIND:

north easterly

IDEAL SWELL:

westerly

IDEAL TIDE:

mid - high

HAZARDS:

none

AVERAGE WATER TEMPS:

9° - 15°

DIFFICULTY:

beginner

RATING:

1/5


The surf here is amazing and I don't know why it is rated 1, it should be 4 at least. As for no hazards, there are strong rip currents in places and it's so hard to get out of one. I would really reccomend this beach to all surfers.
 Phil Blair, Belfast
So this is the only surfable wave from crab island the whole way north to kilcummin, on the west coast!! Wow, lets keep it that way!
 Creamsmegg, Galway
I live near Achill and when most places are onshore Achill (Keel) will work well. It can get very big this time of year (6 to 12 foot on the face). Iíve been to Bali and Iím in Oz now and I think Ireland has some of the best waves in the world.
 Joey, Westport
One of the best places I've been too. Medium size waves all year round and some nice locals too. Some waves can get really big. There are some strong currents but nothing too bad. If you love surfing then you should visit here you will not be disappointed.
 Thomas McCrudden, Crumlin
Achill is beautiful.
 Johnny, Dublin
I was in Achill last year, it was bout 5-6ft and I thought it was crap. It was really lumpy and fat, good for beginners and kayakers. Yes kayakers go to Achill!!
 Agro, Clare
Great scenery and solid waves. Hazards include rips and Killer Whales!
 Rog, Kilmurren
I've been to Achill just once for 3 days last June and the waves were a bit messy, 2 to 3 feet, pounding like a washing machine. The whole beach had waves. There's no channel, you've to take it on the bean to get out there. The potential is great as is the Guinness.
 Rodrigo, Dublin
Keel strand is pretty nice for surfing with a handy campsite just across the road. The water's warm in summer and gets some real nice waves coming in and is regularly offshore.
 Notorius E, Dublin
I was here for one glorious week and it was amazing! There is a beach facing almost every direction on the island so there was something almost every day.
 Johnny, Cork
This is a nice big beach break with a surf school on the Island.
 Simon Jennings, Connemara
I was there for a weekend in July and had some great waves. The best of the sets were at 2 to 3 feet which isn't bad. Can get a bit messy when the tide drops. There are rental facilities at the beach. Lovely backdrop too.
 Rodrigo, Dublin
The waves were great on Keel strand with ten foot breakers a little way out.
 Geo, Dublin
Spent a glorious week here in April. Keel is best at high tide in a Easterly/ NE wind. Easy paddle out. The two rips are way off to the edge of the beach so really shouldn't come into play unless you drift toward the cliffs. Parking and camping right on the beach right. Well worth a visit!
 John, Dublin
Joey back from oz. It's not as good as I thought. But you can get lucky here.
 Joe, Westport
I am from achill island and i think that the people rating it 1/5 don't have a clue what they're talking about. it's worth at leas a 3 or 4. if it's only a 1 then why does it attract top surfers from all over.
 Shane McClaff, Achill
Consistent consistent consistent. The most beautifull spot in Ireland and the best beach break outside of Portrush.1 rating is a joke...somebody wants Keel to himself. If you fancy a challange check out the Fisheries cove on a medium swell...steep fast left with nasty sections but great if you make it. I'm moving there...oh yea..best Guinness in Ireland (and they serve till 3 every night!)
 Jamie Kirby, Tramore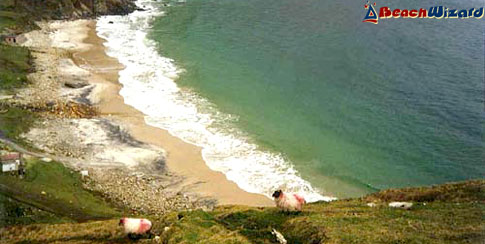 Jean-Philippe ROLLIN, www.surfdawave.com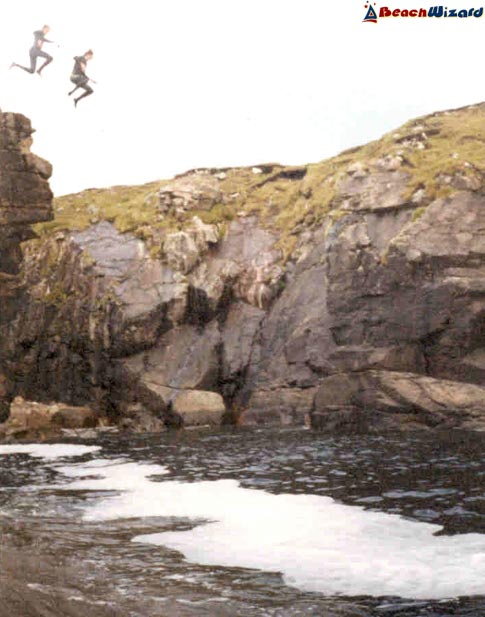 Andrew Forde and Dave McNeive, Ireland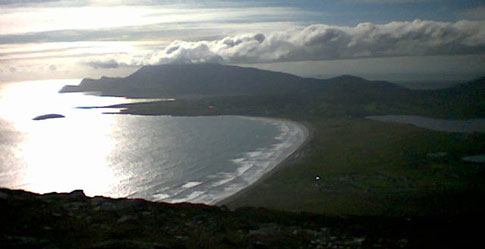 Julian, Co. Wicklow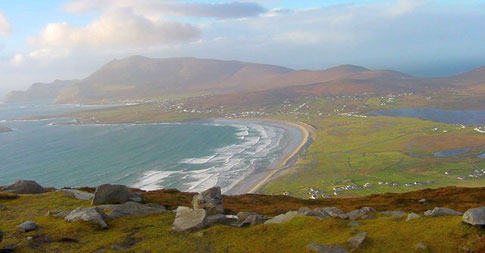 Jules, Co. Wicklow