Balevulin, Scotland 

BREAK TYPE:

beach

WAVE DIRECTION:

various

IDEAL WIND:

southerly

IDEAL SWELL:

north westerly

IDEAL TIDE:

mid - high

HAZARDS:

rocks

AVERAGE WATER TEMPS:

4° - 12°

DIFFICULTY:

intermediate

RATING:

4/5


Windy, obviously my friend was joking when he said I pioneered the bay. Why does everyone take the comments on this thing so literally? Yes it is more of a windsurfing destination, however i just got back from a week on Tiree and surfed clean head high waves twice a day for 6 of the 7 i was there. The windsurfers were having a rubbish time while I was getting some pretty decent waves. You can't really judge a place on it's reputation. Tiree is where I learned to surf and i've only really surfed there, and for me it's a pretty decent location. Anyway it's all about being in the water and having fun isn't it.
 Ross, Helensburgh
Savage!
 Alastair Paisley, West Chester, PA, USA
I've had some great days at this spot mainly when the waves have been around head high, because when they get around 10 foot they tend to close out a lot. The best spots are either side of the beach where the wave tends to jack up predictably.
 Ross Dunlop, Helensburgh
This is a classic beach break when it picks up the right swell. It has got power and speed when it gets shoulder to head high and there are a variety of good rights and lefts when the sand bars are in the right position. There's a good right hand peak down the far end of the beach but the best waves I've surfed are the lefts that peel in a long line in front of the rocks with a sizeable swell. Get it on the right day and you're laughing. Oh and watch out for the seal patrol zooming around at high tide, if you're the jumpy sort you could be in for a change of shorts.
 Tim Roberts, Hebden Bridge, West Yorkshire
This beach has some powerful waves and I've had many a good bodyboarding session here. The line ups are very quiet with about ten out on a busy day and about half of them are with me so the vibe is great.
 Brodie, Helensburgh
Bloody huge, on the good days! Ross Dunlop pioneer of the bay surfs here regulary, pulling aerials at every oppurtunity. I however suck! Me and my trusty diving daniel can often be found in this paradise.
 Harry, Helensburgh
Well, I am cousins with all the Dunlop people, and I surfed it last year and froze my ass off because the coldest we get here in the states is about 80°. I am looking forward to my trek to Scotland this year (2003) because It was epic last year. The mast high sets were great, even though I got minced by 9 out of 10 of them. The white water was immense I couldn't duck dive, I had to resort to my trusty eskimo roll. Great beach... worth a look!
 Alastair Paisley, West Chester, Pennslyvania, USA
Thought this was a surfing review not a w'surf one albeit Balevullin ok for surfing too, and when exactly did yer man Ross "pioneer" the Bay? That was done some 18yrs ago! I'll get you a photo.
 Windy, Glasgow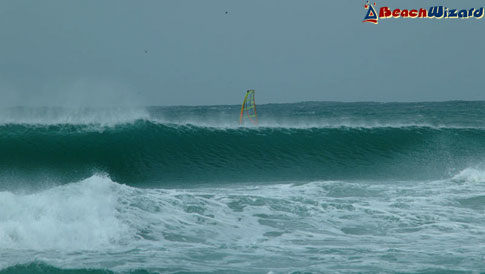 Ross Dunlop, Scotland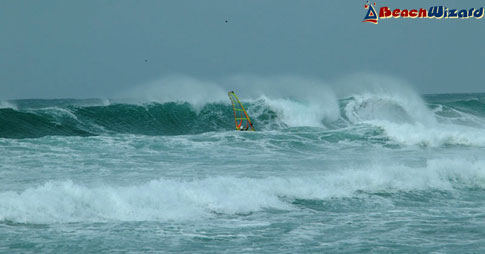 Ross Dunlop, Scotland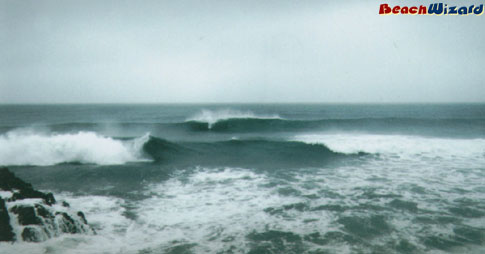 Ross Dunlop, Stratford