Armadale Bay, Scotland 

BREAK TYPE:

beach

WAVE DIRECTION:

various

IDEAL WIND:

southerly

IDEAL SWELL:

northerly

IDEAL TIDE:

all

HAZARDS:

none

AVERAGE WATER TEMPS:

6° - 15°

DIFFICULTY:

beginner

RATING:

3/5


These waves are radical dude, I went yesterday and the waves were gnarlatious 8ft faces! One wave I got barreled to buggary. It was wide enough to fit a north-western american Jugernaught inside! It works best on a north-southly gale. Beware the pad!
 Joe, Armadale
Great beach, lovely scenery. The picture shows a big swell in spring. I was unfit and alone so I took pictures. The ride was half to three quarters of a mile long. A hold-down in these conditions was 50/50 live or die. You could drive a truck through some of the tubes. For scale see the house on the cliff directly above the wave.
 Surfinsid, Balloch
The picture of Armadale I sent you had no commentary with it. It was big and in those conditions the tubes were waggon size. It was easter, I was alone, unfit and a hold-down would have been curtains.The tube in the picture was at least ten feet in diameter if not twenty. Perhaps the house on the cliff was lost in the detail. Alexander is my sunday name I prefer Surfinsid. Ta.
 Surfinsid, Balloch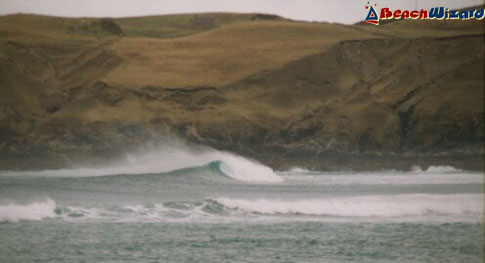 Alexander Perrie, Scotland