Southerndown, Wales 

BREAK TYPE:

beach

WAVE DIRECTION:

various

IDEAL WIND:

north easterly

IDEAL SWELL:

south westerly

IDEAL TIDE:

low - mid

HAZARDS:

none

AVERAGE WATER TEMPS:

8° - 16°

DIFFICULTY:

beginner

RATING:

2/5


Southerndown can provide some world class beaches. Low tide to mid has given me some of the better sessions (especially mini kirra, you know what to look for!). The backwash can be good for silly things like ollies, reverses etc... Best to catch it early morning as it can get crowded! Be sure to enjoy. High tide seems a bit more fickle, usually bumpy due to the backwash.
 Craig Nicol, near Cardiff
Right of the river works on a big swell, a boring and slow wave. Hardys on the left of the river in front of car park, works best @ 3/4 tide, awesome on a big swell, great left hander can get pretty hollow. Watch the dump @ full tide.
 Ripper, Llantwit
I've surfed all around the world in the last 25 years, but I have never had a wave as good as the middle of the bay, on a dropping tide in mid February.
 Tom, Wales
Can be a great wave but is fickle. If the Gower is happening you'll get around a foot less here but very clean if it's offshore and well worth a trip for mid tide. It does blow out easily and watch for the dog turds on the walk down!
 Wilko, Cowbridge
A nice break I agree with Tom, although it can be difficult when it gets crowded but worthwhile for a look and also unlike a lot of beaches at least the car park is close so you can leg it to your car as soon as your legs go numb from the cold!
 Jimi , Cardiff
Totally bogus!!! The reef creates a perfect wave. It's absolutley pucka. A class beach and a class reef. Be careful of the rocks though (very spikey). When the waves are 6 foot + then it's at it's best.
 Gafyn Poulton, Caerphilly
I usually surf the Gower or rest but I checked this break out when Gennith was supposedly flat. I scored 2-3 foot conditions with perfect peeling waves. The reef creates a radical perfect peeling wave, great for long and short boards. Awesome spot!
 Simon, Gower
UNBELIEVABLE SPOT! INCREDIBLE WAVE! I've surferd every spot in south wales in my time but had never surfed here until a month ago! This break on the push picks up all the swell there is in the gower but peels forever due to the rocky reefs. Definitely the best wave in Wales and on a N wind or maybe NW when Rest bay is maxed this spot is usualy booming! GO THERE AND BE STOKED!
 Simon, too bloody far away!
This is the home of the greatest power surfer to come out of Wales. The legendary Attoile! When you pull 2G he pulls 5G. It is all about power!
 Martino, Penmarc'h
This is one of my favourite beaches. It really was a lot of fun. I recommend it a lot!
 Mke, Cardiff
Southerndown can produce some good surf but it has one big problem the good surf comes once in a life time you have a much safer option to go to rest bay.
 Peri Megas, Cardiff
A quality beach learnt to surf there when i was younger and has remained a firm favourite ever since. nice place good waves (can get very crowded in the summer).
 Joe, Cowbridge


Alex Farrow, Bristol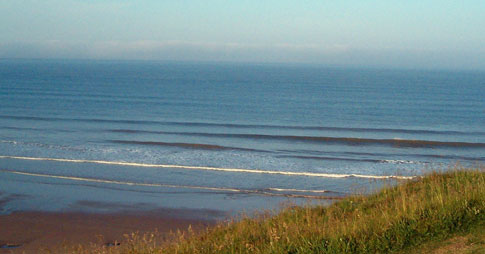 Marcus Francis, Southerndown