Harlyn, England 

BREAK TYPE:

beach

WAVE DIRECTION:

various

IDEAL WIND:

south westerly

IDEAL SWELL:

westerly

IDEAL TIDE:

low

HAZARDS:

crowds / jellyfish / lifeguards

AVERAGE WATER TEMPS:

8° - 16°

DIFFICULTY:

beginner

RATING:

2/5


Works great about an hour after low tide for about an hour and a half.
 Steve Pocula, Plymouth
A beautiful beach with plenty of space for kit. Lifeguards tend to keep area small so it can get crowded. Rock hazard to left for malibu boys but great for learners.
 Gerry Scrimshaw, Dunmow
I used to come here as a kid before moving overseas. Last November when there were strong wind warnings and everywhere else was blown out, Harlyn was perfect 4-5ft peaks and offshore. There were 2 other cars in the car-park. Everyone was so stoked to have scored.
 Jono, Swansea
Epic hollow rides and fast closing waves with an onshore wind, if Constantine is flat this is always a good bet.
 Jono, Exeter
Has short fast hollow rides but are often close outs. It is best from low to mid tide, can be unsurfable at high tide and is offshore in south westerlies.
 Jono, Exeter
Usually other breaks are a better bet but when the onshore is kicking it can produce some good chances to get a small barrel. I surfed it once in April, sleeting, raining, freezing water, but wicked surf (5ft+).
 Pete Cox, Surfing Traveller
When its at least 6ft+ at Constantine, Harlyn gets about 4ft and a really hollow wave and you could snatch a barrel.
 Ross Farrer, Plymouth
This is situated about 8 miles from Padstow and is a widely known and popular beach. It is a relatively safe beach with lifeguards patrolling and a surf club. This beach is very inconsistent and needs a good swell to make it work. At low tide it closes out and it doesn't work unless bigger than 4-5 foot at high tide. The best time to surf it is at mid tide, when its over the bank, on the push. There is a good pub, a restaurant, takeaway and toilets (bit of a walk though). There are good parking facilities and mostly the locals are friendly. The down sides are that the beach is very inconsistent, crowded and full of seaweed but is also one of the best breaks I have surfed when its good, it can also hold a good size wave as I have surfed it at over 10 feet. Only caught one wave mind you, but I was in there. I have also snapped a Mach 7 board in a very mushy heavy day.
 Jason, lifesabeach.org.uk
One very stormy November morning my mate and I had an empty bay at low tide with extremely steep heavy 10 ft waves. Awesome day but also provides fun little rides in the summer if u can dodge the crowds. Check out the rebounding wave off the dune at high tide, not much but a bit of a laugh.
 J, Penarth
Harlyn, my wonderful Harlyn. Motly used by folks trying to avoid blown out conditions elsewhere, this beach has an exeptionally 'sucky' wave which just has a peachy shape. typically the paddle out is easy in good conditions as the sets and lulls are well defined. I've surfed perfect 4ft days there, but also practically 6inch waves, because the shape of the waves and the speed at which the peel is just soooo god. getit on a push tide though.
 Longdog, Plymouth
All 400 times I've been to Harlyn in the summer, it's only ever worked once. It's best to drive to Polzeath which is like 3 mins away. Don't waste time here in the summer!
 Dan, Bedwas
This can be an amazing wave and is often overlooked due to its location.
Every day this place should be checked as even on a small swell and at low water it can be a fun hollow wave.
It's worth a look if you think conditions are too big elsewhere as Harlyn will be mostly hollow and smaller.
 Wes, Oceanfever.net
In my opinion Harlyn only works when the waves are huge everywhere else, then they are good. The rest of the time it's flat. The lump in middle of beach stops the waves when approaching high tide.
 Lloyd Dowden, Caerphilly
This beach is over populated and only recieves a decent wave when elsewhere is blown out. Low tide is the best but as the tide comes in a sand bar appears creating an island in the middle which stops waves from breaking. At high tide there is a super small shore break which is pathetic.
 Dan, Bedwas
This is the main north facing beach in the area and with southerly winds and swell it becomes epic on an incoming tide. Harlyn is a must with a southerly wind!
 Will Hayler, Padstow
Despite much critisim from the "hardcore" spongers/surfers among us, this break does have the potential to provide fun and fast surfs. It tends to close out a lot at most tides but when the wave peaks it spits out super hollow, smacky waves.
 SpiNNeR, Dartmouth
When there's a big swell places like Constantine will be blown out but Haryln's bar break on the incoming will provide classic A-frames peaks. However crowds can be a problem with a bit of localsism! But it must always be checked without doubt!
 Felix Warlord, St. Merryn
An excellent break on its classic days! Hard to beat when large south westerly swells come through with westerly or north westerly winds. Lack of swell is its main problem. Dont even bother in the summer! Overall an excellent break on its day.
 James Evans, Pentewan
When surrounding breaks are 6ft+ and blown out on a southwesterly, this can serve up some excellent hollow a-frame peaks, perfect for a barrel. Beware however as the heavy closeout can break boards. Fast and fun.
 Sam, Plymouth
Loads of guys give this place a crap review, but they should try surfing it all year round. On big swells and the all too regular s/w winds, this place cranks on a pushing low tide. Seriously hollow and long dredging barrells are very common. You've gotta love it. The only arse is that it crowds out.
 Gaz, Plymouth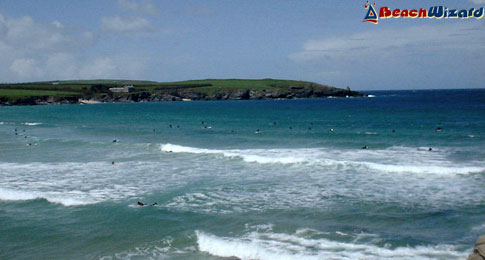 Jason, lifesabeach.org.uk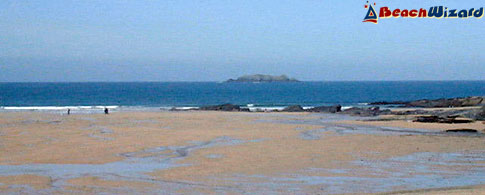 Jason, lifesabeach.org.uk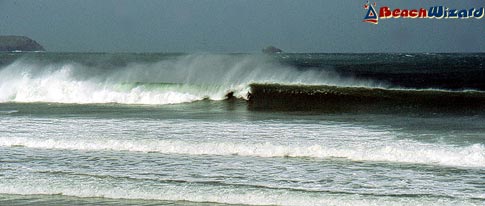 Lewis, ridingzone.com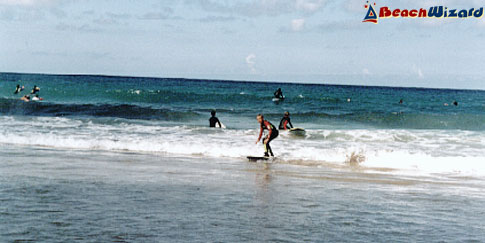 Lloyd Dowden, Caerphilly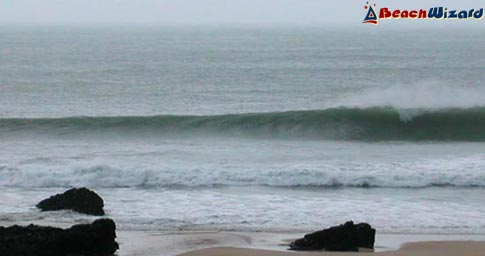 Marcel, Portsmouth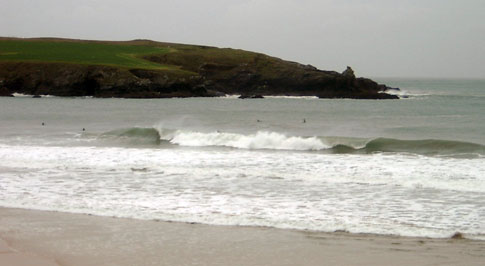 Jonathan Sharp, UK