Westward Ho! , England 

BREAK TYPE:

beach / reef

WAVE DIRECTION:

various

IDEAL WIND:

south easterly

IDEAL SWELL:

westerly

IDEAL TIDE:

all

HAZARDS:

rocks

AVERAGE WATER TEMPS:

8° - 16°

DIFFICULTY:

beginner

RATING:

3/5


A very underrated beach that is equal to any in North Devon on its day! At least 4/5. If you donít believe me look at the pics at www.noseriders.co.uk
 Simon Mitchell, Westward Ho!
This beach goes off! Not all the time but when it does it kicks ass as it gets swell from 1-7 foot and has wicked little sections.
 Arnold, Westward Ho!
When it's good, it's sure good, but dont listen to Arnold hes a prat.
 Soph, Westward Ho!
Don't come here unless you really have to. The wave has no shape or power. I once surfed here 4ft offshore and it was so weak you could just paddle out through the waves. No duck diving needed.
 Liam, Exeter
Hardly ever works, receives poor swell and breaks very weakly. Bunkem!! It's full off sewage.
 Richie, Hartland
Nice beginner wave, good for a relaxing surf.
 Fraser, westward Ho
Wicked at about 4 foot with slightly choppy with a light south west wind and nice smackable lips and cool inside sections.
 Jordan and Arnold, Westward Ho!
The beach sucks but just around the corner along the public footpath are some really nice little reefs that all work on a neap high tide. Rating: beach 1/5, reefs 4/5, come on down.
 Paul Stewart, London
Hey, it's OK. Sure, sometimes the waves can be very poor, but others can be great. Just the luck of the weather. Not very busy either.
 Helen Whiteley, Chesterfield
A great wave to learn on! It may not always perfect, but does have its good days.
 Eva, Stockholm
To be honest I think the beach is good, but i went around the corner to the reefs and tried to surf but I got hassled out of the water due to the horrible locals. I thought I was going to get beaten up. I warn anyone who goes around there: THE LOCALS ARE AGRO.
 Keith Jordan, Swansea
The surf isn't great but it's ok if you just want to learn the basics but if your really into surfing there are better surfing beaches long the coast I did see some big waves when I went there in 2002 but they where only when there was a strong wind. The beach itself is very big. I noticed a group of people from a surfing school in the water but I never found the place where you sign up so if any body knows post it here so that other people can find it. Overall: Great place & nice people!
 Dave, Wigan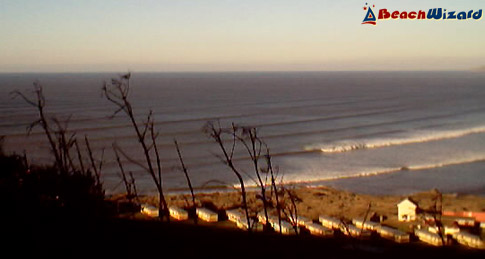 Sophie, Westward Ho!

Arnold Braid, UK