Southbourne, England 

BREAK TYPE:

beach

WAVE DIRECTION:

various

IDEAL WIND:

northerly

IDEAL SWELL:

southerly

IDEAL TIDE:

mid - high

HAZARDS:

crowds

AVERAGE WATER TEMPS:

7° - 15°

DIFFICULTY:

beginner

RATING:

2/5


Infested with sponges, this break can get crowded easily but can get quite heavy on a SW groundswell over 3ft. Try checking out the groynes to the east for an uncrowded board and back breaking experience! Beware of the very shallow gravel.
 Adam Maskill, Poole
I'm a local Southbourne sponger and I think it rules. On big days mind out sticks it's a heavy drop. Super lush tunnal vision and amazing lips. If you haven't tried it before, give it a go but be kind to the locals and give them the first wave. JAY
 Jay spetch, Southbourne
We need that reef! I started surfing at Southbourne and it can be strong on its day. A repair job on the right groin 3 months ago has jacked the level of the sand up by about six feet making it very dumpy. More of a quick ride break for shortboards.
 The Crabman, Bournemouth
Good spot when the wave is clean and the tide is in otherwise it's very shallow and very easy to touch the bottom and can wreck the underside of your board. Better for bodyboarding than surfing which is best at Boscombe or Bournemouth.
 Common Basher, Ferndown
This rarely works, the south coast has rare surf, Southbourne works best from mid to high tide and has a strong dumpy wave when it's working. Tends to be best for body boards, but beware of the killer grommets!
 Matt, Bournemouth
I have surfed this place a couple of times and I think it sucks!!!!! There are a billion spongers at the shore who get in your way and they dont seem to care. Many of these spongers are about 12-15 years of age and they seem to think they know every thing. Though there are some really good spongers here who could easily win many competitions. When I surfed here the waves werent that powerful, but I have seen this place in the winter enourmous!! Honestly like another country!
 Jimmy, Southbourne
A great wave when its on it really wedges up. Shame its crawling with spongers. They will start on you if you catch a wave but just head straight for them and a space normally opens up.
 Ben, Salisbury
It can be very crowded, but can be really solid on big swells. If you want to avoid the crowds either get in there early as most people will be in bed after heavy nights, it is a good wave, very steep at times. I had some good sessions there, just have to be patient as the swells arn't that frequent.
 Kris, Bmouth
Needs a reef badly!!! I went there the other week and it was infested with spongers. It can be very dumpy.
 Crud, Bournemouth
This place is packed when there's a good wave to be seen, mostly by 15 year old spongers. GO THERE ON A WEEKDAY!
 Jordan Wolff, Bournemouth
Oh wolfy boy sort your head out! If you've got a crap attitude to Southbourne go somewhere else, any break, any board, any wave, any age! If you've got a problem then surf somewhere else if one of those spongers went pro then be proud that h is from your town.
 AJ, Weymouth
Here's a set, paddle a little, ooh shite that was a bit of a drop, surprised I made it, quick bottom turn, smack dat lip, cool I got my fins right out, oh bugger there's almost no water to land this in. Where's my other fin? Is that gravel in my eye? Never mind I'll go and see Paul, buy some fins and admire his massive selection of well priced wetsuits at Bournemouth surfing centre.
 Charlie, Bournemouth
I love the wave to be honest! I had it a few months back early (6am) on a saturday morning, head high, offshore, peaky super sucky and hollow, with no one out!!!
 Jamie R, Isle of Wight
I think I'm the best down at Southbourne. Nobody else really compares with me. It's a lush wave and is lots of fun.
 Chris Brooks, Bournemouth
It gets quite good when the sand bars are on form. It's usually got more power, barrels and air sections than Bournemouth, the kid who does the knee spins, look out the style police are after you. Any time you spin it may be taken down as evidence against you!
 Shizen, Bournemouth
Here's a nice piddly set, oh no it's a fair size, oh begger its huge! The woos start chanting. You've got to take it. One little kick and you're off. Steep drop, deep barrel. Hmm hit the lip or get a lovely tunnel vision! It's your choice. Big barrels or big air.
 Southbourne Grom, Southbourne
It's a really great wave to surf when it is on. The surf is good in the winter and it works on a south westerly wind. When there is a solid groundswell Southbourne tends to close out but other spots in the area will be pumping. Great for sponging with good ramp sections and people are generally pretty friendly.
 Rob, Canford cliffs
Southbourne.......awful, this sums it up, whether its onshore or glassy offshore, after you've paddled for any wave and bottom, you're faced with a huge closeout..... fun NOT, yeah and it's infested with newbie spongers.
 Sbourneh8er, Christchurch
Yeah, woooo are the noises I make when i drop into pits big enough 2 drive my vespa through!!Southbourne makes my arms flid and my face purple with excitment!so if u see a big glowing flidding mess pull a gnarly dude off a Southbourne smasher come and give me a kiss, I'm happy!! urs sincerly team bz x x x x
 Matt Wriggle, Bournemouth
These waves are sweet on a good day but I find that there are too much bodyboarders which keep taking your wave and making you bail!
 Surf King, Bournemouth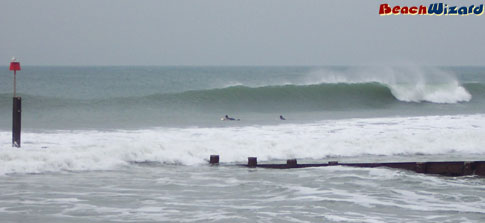 Bournemouth Surfing Centre, Bournemouth