Paignton, England 

BREAK TYPE:

beach

WAVE DIRECTION:

various

IDEAL WIND:

westerly

IDEAL SWELL:

southerly

IDEAL TIDE:

mid - high

HAZARDS:

none

AVERAGE WATER TEMPS:

8° - 16°

DIFFICULTY:

beginner

RATING:

2/5


Few waves but great slides!
 Russ, Bristol
This place truly sucks!! It only works on a wind swell, which is never, and it really smells of shite! I have surfed it twice in four years and got really sick due to the sewage outfalls. KEEP CLEAR is my advice.
 Rich Jones, Paignton
I agree with Steve. Occasionaly this break can be okay. I went there straight after a visit to a flat Bantham to find 3 foot and windwaves and got a good nights body boarding. Go to Preston not Paignton, it's much better. Not the best but 10 minutes from my house! What more can I say?
 Colin, Torquay
You're all right but when that east wind blows we all pile down there thinking? But when that wind drops or a big south westerly blows we love it! Surfing in Torbays shitty clean sweep! See you in the poop!
 Key Man, Torquay
Hollicombe beach on the far left works on the reef which can be clean after a harsh storm. On occasions has seen 3 - 4 foot hollow barrels. Locals only!
 Mike Langdon, Newton
This is bollocks. Full of turds and shite waves. Leave it to the tourists.
 Tim , Exeter
Wind generated swell. Difficult paddleout. I have surfed here twice in 3 years. It tends to clean up when winds swing around from south easterly to westerly but the swell only lasts for about 1 hour and this usually happens after midnight!
 Viv, Paignton
The surf in and around Torbay is always pretty shit, although there's a beach to the left of Torre Abbey sands called Livermead beach, I've been there a few times in the winter, it works on a low tide with a strong south-westerly wind, and it picks up to around 4ft and clean as you like. The down fall is it's a small beach and can get crowded.
 Gary , Torquay
This break can be prrety wicked often messy but can have its day with nice cleanish hollow waves, best at mid to high tide offers a good wave for both bodyboarding and surfing, give the locals respect they put in the hours no matter what the condition.
 Gary Heale, Dawlish
Yeah it only works on an easterly. Yeah it's not that clean. It's my homebreak so if you don't like it , don't surf it. Moaning cunts!
 Steve, Paignton
I completely agree with everyone else, it very rarely works, and when it does it's not really worth the bother. But there is a beach near to Paignton called Livermead, again, rarely works but when a strong south-easterly kicks in it's quite impressive, it works best at low tide, and when swell hits the reef it peaks up to around 4-5feet.:)
 Gary McMillan, Torquay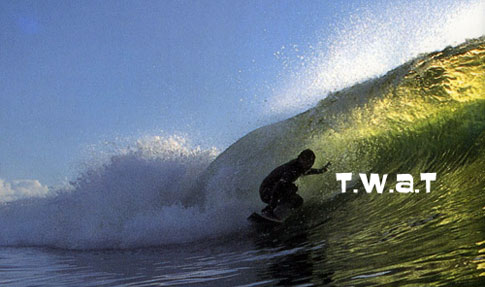 Steve, Torbay Wave Attack Team