Trebarwith Strand, England 

BREAK TYPE:

beach / hollow

WAVE DIRECTION:

left

IDEAL WIND:

easterly

IDEAL SWELL:

westerly

IDEAL TIDE:

low - mid

HAZARDS:

rocks

AVERAGE WATER TEMPS:

8° - 16°

DIFFICULTY:

intermediate

RATING:

4/5


A heavy beachbreak up to mid tide. Watch out for rips on bigger swells. Good cliff cover at the south end. Port William Pub kicks ass for curries.
 Surfjabroni, Plymouth
A lovely scene with an ace pub overlooking the break. A pretty dangerous as it is way hollow with submerged rocks and a tiny sand beach for access or you can get smashed into the cliffs. Only experienced surfers will enjoy this the rest of you will love the pub and doughnut vendor.
 Charlie, Bournemouth
I have surfed Trebarwith more than any other place in the last five years. I would disagree that it's best tide is low as from experience the waves simply close out. Best I think is mid tide on an incoming where the waves hold a much better shape and you have approx 2 hours before getting out over the rocks which is tricky. This is also the time that the locals come out of the woodwork and suit up. Port William pub - many a good night in there and became a known face and was even served a non-tourist pint of Stella (yes, it's 30p cheaper if you are a local, even says 'Stella Tourist' on the reciept!) There's a place however round the corner which catches more swell and is less crowded but I aint telling you where!
 Martin, Purley, Surrey
Waited all year to get back here, man was it rough. Cross currents, 5 - 6 ft's, messy, exciting, but tiring. Good clean barrels were hard to come by but experience worth it. If you surf to the right beach watch out for out for the fast incoming tide, out of the way of everyone but hard to get back. Move fast.
 Niki, Cheltenham
Quality break on its day, the best peak is the wedge like break of blacks rock to the south-side of the beach, the locals are assholes who think they're all that but really there all tw*ts!! Best tide is a pushing mid-tide when the wedge really starts working, hollow barrels evert time in the correct conditions. This is never a beginners beach!! Ok on a 2-3ft swell in the summer maybe surfing out in the bay like all the other tourists, this place is a winter break and I've surfed here many times at 6ft+ conditions and it gets sick pretty quick! Theres a gnarly right hander around the south-side corner that offers the best pits 10 miles in any direction, very experianced surfers only recommended!! See you muppit locals this winter, peace!
 Skinner, Camborn
Situated near to Tintagel, this is where I had my best surf ever in the UK. I don't know enough about the beach to make a definitive report, I surfed it on a 4 foot swell and for a bodyboarder it barrelled for 6 hours, I had to drag myself up the beach at the end of the session. The locals here are friendly I hope because I want to go back again one day. There are lifeguards, many facilities; and a car park which is a bit of a walk. A lovely little cove.
 Jason, lifesabeach.org.uk
This beach is very rarely flat. The waves are extremely powerfull and sometimes barrel. The beach rapidly disappears at high tide and becomes a reef. It is always amusing watching the bucket and spade brigade leaving it too late to leave the beach. But at high tide the sea comes up over the rocks and it is very danderous.
 Lloyd Dowden, Caerphilly
A consistent peaky beach break that throws up some screaming barrels that aren't for the faint hearted. Definitely one to go for in summer when the other spots have been zooed out, by bodyboarding wannabes. Although well life guarded rips are a danger.
 Will Hayler, Padstow
The best surf I have ever come accross. Really heavy surf with some sick barrels. Absolutely quality, and some bangin cliff jumps when the tide's in.
 Dave Mascall, St Kew
Nice wave. Normally 3 to 4 foot. Closes out easily. Rips on the right make an easy paddleout. Can be heavy at times. Jan/Feb best.
 The Hat, Hemel Hempstead herts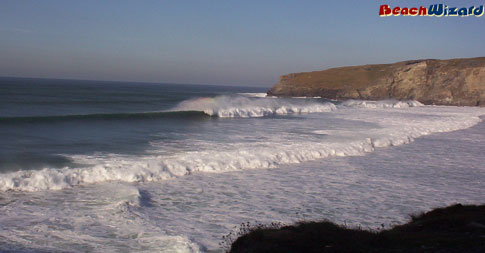 Martin, UK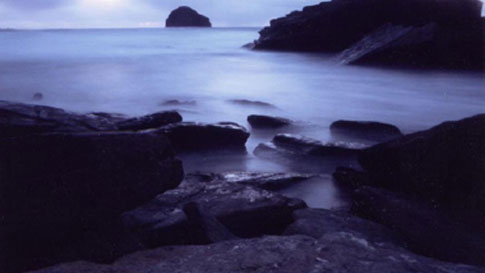 Hugo Driver, Oxfordshire