Aberystwyth harbour trap, Wales 

BREAK TYPE:

reef

WAVE DIRECTION:

various

IDEAL WIND:

easterly

IDEAL SWELL:

south westerly

IDEAL TIDE:

low - mid

HAZARDS:

rips / pollution

AVERAGE WATER TEMPS:

8° - 16°

DIFFICULTY:

intermediate

RATING:

4/5


The last time I was there they were ten foot and smoother than you`ll ever see.
 Dave, Cardiff
The beach works best after a big swell. The biggest waves are at the west end of the beach where you can get decent rides. It is worth checking out if you are in the area.
 Llewelyn, Menai Bridge
The best spot in the area that can hold a large swell of around 10ft. When easterlies blow it can get hollow. Crowds are a problem, but its well worth it.
 no 1, Aberystwyth
This place can get pretty hollow sometimes but you've got to watch out for the spongers, they can get real mad.
 Gaz, Aberystwyth
It's a great break but is heavily polluted by spongers and kayakers.
 Huw , Aberystwyth
When all the elements are working this is a world class break, but watch out for a guy called 'Pickass' he may drop in on you and nail you on his BIC, I have several bruises on my head from a recent incident.
 Al, Aberystwyth
"The Trap" has fantastic potential and when conditions are perfect it is one of the best waves in the area. It can`t hold a crowd! Ten people max! After heavy rain watch the rip as it cuts across the line up and makes staying put a real headache.
 Dai , Aberystwyth
Busted early as they gentled. Slacker winds. Good curve without the barneys.
 Comac, Mukilteo
This is the most fricking insane wave in the whole of Ceredigion if not Wales brah! It is known by us few sacred locals as SPOT X as for some unknown reason its always offshore, something to do with the rivermouth I think! Me and Sp-anker Man have had some hell drops out here all on our own. Fricken Welsh Wiamea my man. Come by all means just don't drop in on me or the spank! Later, bosh Dxx
 Daniel AlCock, Aber
The trap is always crowded, it should be left to the short boarders as long as we (spongers) get Bath rocks mean hollow ride.
 Chris C, Porthcawl/Aber
The Trap is a world class break, better than pipe, but you gotta watch out for the oldies, like Al Clare, and the one and only 'PICKASS' he's a gimp who rides a gimp board and will more than likely kill you on his bic.
 Al Clare, Aberystwyth
Great wave and some great surfers, watch out for the rivermouth and the kooky studies, but always respect us locals. Hope to see you here soon!!!
 Huw (the Fraggle), Aberystwyth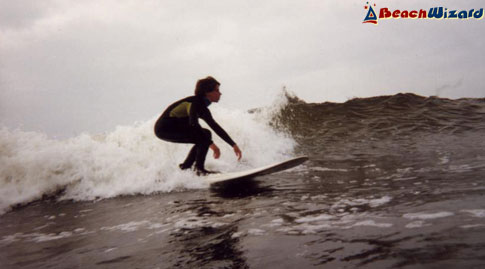 Aled Roberts, Aberystwyth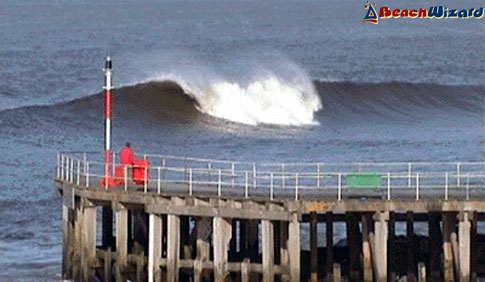 Aled Roberts, Aberystwyth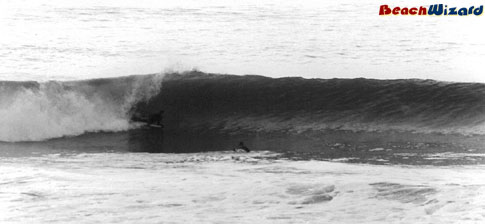 David Burden, UK